Railroad shelters, railway houses, and railway bungalows are built for durability and low maintenance to withstand the extreme railway environment. The gable roof design with passive ventilation creates a stylish profile that also prevents interior condensation. Railroad houses are available in polyurethane paint or powder coat finish to resist corrosion and provide a graffiti-resistant exterior. The 3-pt. heavy-duty lock set with padlock handles is vandal-resistant and easy to operate.
The buildings are built to last for heavy-duty use. Railroad shelters, railway houses, and railway bungalows are constructed of welded 12-gauge galvannealed steel or .100 aluminum as well as stainless steel hinges with grease fittings to prevent doors from sticking. The full-contact door gasket provides a dust-proof and water-resistant compression seal to keep out contaminants. For easily adjustable equipment mounting options, our buildings feature vertical key-slot ribs 24" O.C.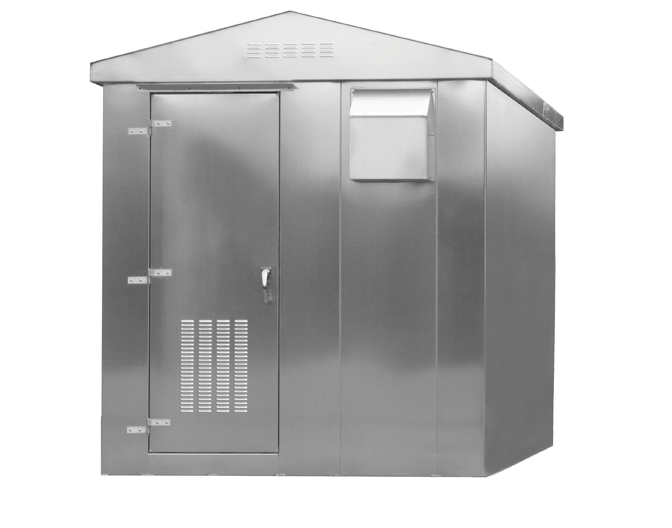 Industry-standard sizes available in 12-gauge galvannealed steel, stainless steel, or .100" aluminum 
Single (42")      Double (60")      Wide Double (81")      Quad (116")
Project Overview/Customer Testimonial -
Harmon Industries/ GE Transportation
Manufactured several rail shelters for a large midwestern transit authority, housing critical relay components and communication signaling equipment.
"We know that you and your people have put a great deal of effort into making your part of this project a success.  Since we also are in the design and manufacturing business, we understand that it takes the contributions of many people to achieve what you have.  Please pass our thanks to the rest of your team, especially for the long hours and weekends spent in order to make the first delivery." 
 – David Catallozzi, Manager, Turnkey Systems, Harmon Industries