Pre-Engineered Genset Enclosures
Precision Quincy Industries offers three (3) pre-engineered packaged, sound-attenuated enclosure models designed for your standby or prime power generation application needs. Constructed of a roll-formed and welded steel frame, our pre-engineered generator enclosures utilize a proven automotive industry VHB adhesive. The adhesive bonds the aluminum or galvannealed steel skin to the frame to offer a smooth exterior finish, free of rivets, bolts, or other hardware.
Proven through a third-party engineering evaluation, our enclosures are rated for 120 MPH wind load, 50 lbs./square inch roof load, and 200 lbs./square inch floor load. Each model can be incorporated with a 24-hour or 48-hours run time, UL142 sub-base diesel fuel supply tank. Flexibility in our design allows room for additional non-standard components to be specified.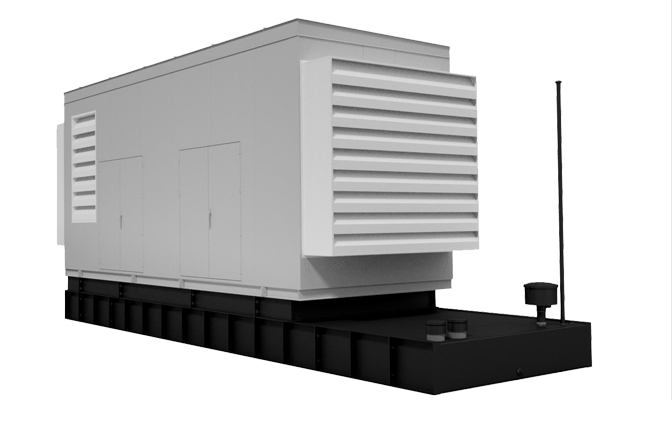 500kW – 650kW                  700kW to 900kW         1000kW to 1500kW
Pre-Engineered Enclosure Features:
UL FTPP Classified
Constructed from .090" 5052-H32 aluminum or 14-gauge galvanneal
Sound reduction of 30 dB(A) @ 23'
Critical grade insulated silencer
4" 4# mineral wool acoustical insulation throughout the interior with galvanized perforated liner
 Insulated access doors, 3-point latch and safety holdbacks
12" Sub-frame (available on the PQ-1000)
Pre-Engineered Enclosure Specs:
Wind Load – 120 MPH
Roof Load – 50 pounds/ SF
Floor load – 200 pounds/ SF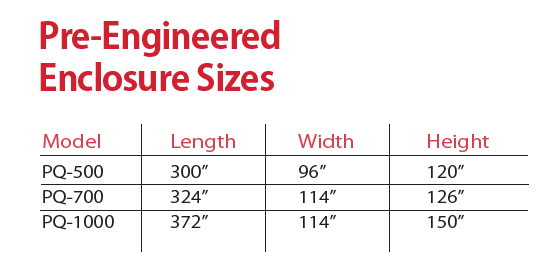 24-hour or 48-hour
UL-142 Listed
High/low-level leak detection float switches
Double-wall constructed with 7-gauge and 10-gauge steel solid seam welds
2″ normal vent extended 12′ above ground 
• Spill containment w/lockable lid
• 2" white lettering on fuel tank